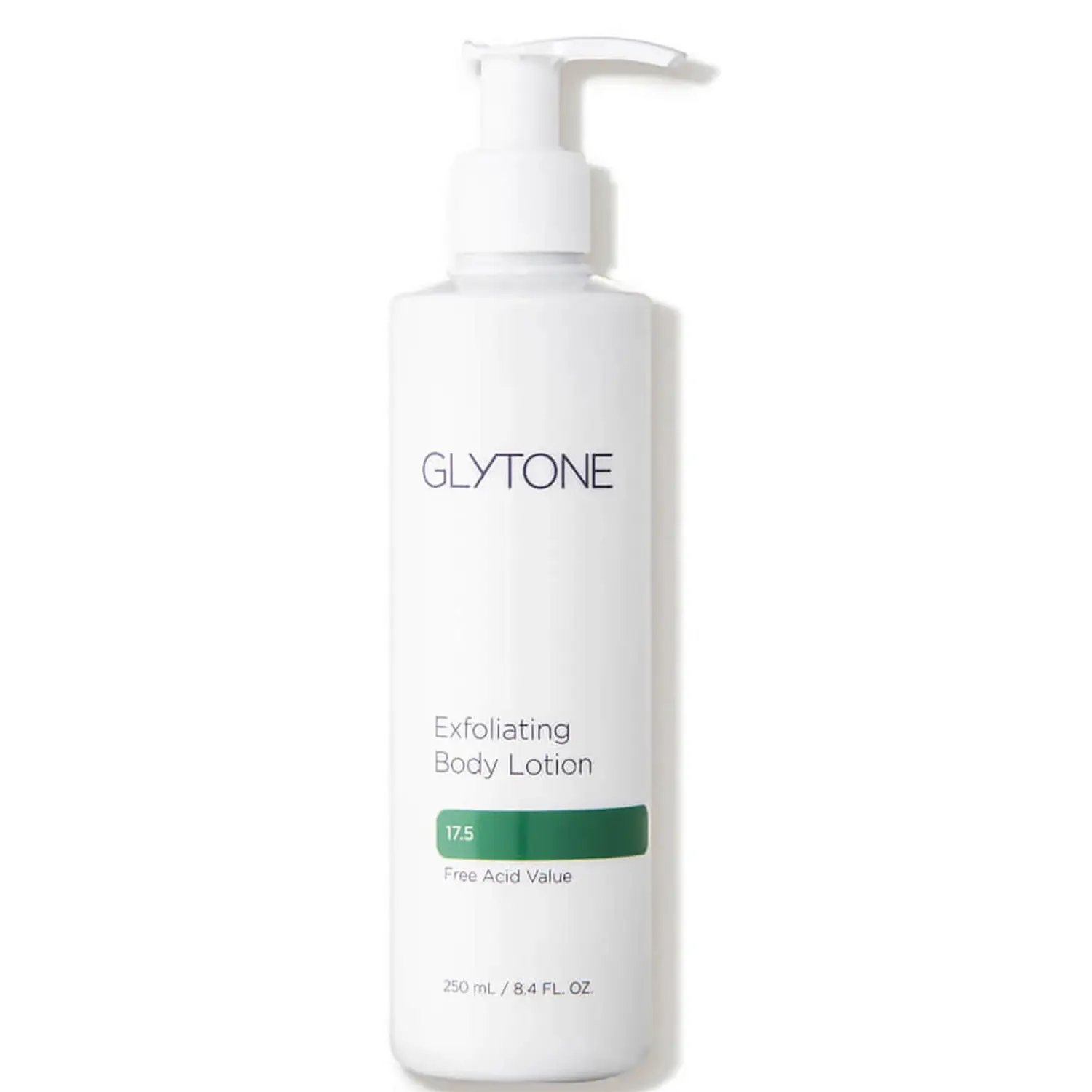 GLYTONE Exfoliating AHA Body Lotion – 17.5% Glycolic Acid
GLYTONE Exfoliating AHA Body Lotion refines and hydrates rough bumps and dry patches. Formulated with 17.5 PFAV™ Glycolic Acid, it exfoliates dry surface skin cells while hydrating for a smoother, more even complexion.
Glytone Exfoliating Body Lotion is a smoothing moisturizer with a high concentration of glycolic acid to even the skin's texture and promote healthy-looking radiance.
Each application reduces the appearance of uneven skin tone, leading to improved appearance and health. In addition, vitamin E conditions and offers antioxidant protection to shield the skin against environmental aggressors.
Helps to remove rough, dry skin and create a smoother texture. This glycolic acid cream is ideal for areas of the body, such as elbows, knees and feet, that tend to easily become rough and damaged.
This Glytone moisturizer contains ingredients that soften skin and reduce flakiness without any greasy residue. Simply apply a small amount of this glycolic acid cream in a circular motion where needed to remove dead cells with the help of your fingers and hands.
Glytone Exfoliating Body Lotion is a keratosis pilaris treatment. It contains 17.5% free glycolic acid to renew and rejuvenate damaged skin. The powerful formula removes dead skin cells that cause bumps on the backs of arms and thighs, a condition known as keratosis pilaris.
Using this Glytone body lotion daily will work as a keratosis pilaris treatment and lead to a smooth, even texture. The formula also contains vitamin E and antioxidants that defend against free radical damage and help keep skin healthy. This fragrance-free Glytone body lotion is great to use anywhere on the body to get smoother, more youthful skin.
Best For Keratosis Pilaris.
Healthybeautiful's #1 glycolic acid lotion for the body.
How to Use:
This powerful acid body lotion helps slough off dead skin cells, smooth and tone the epidermis, and treat blemishes for a significantly softer complexion. The Glycolic AHA component of this product is non-abrasive, works quickly in just one day, and gets to work fast on uneven skin tone. This product should be applied daily to arms, back of hands, legs or other parts of the body with special attention required. Use in combination with other products for optimal results.
Ingredients:
Aqua (Water), Glycolic Acid, Propylene Glycol, Cetearyl Alcohol, Petrolatum, Glycerin, Potassium Hydroxide, PEG-40 Stearate, Allantoin, Propyl Gallate, Tocopheryl Acetate (D-alpha)